The world is evil and it is not yet ready for a man like me. I have tried my best but I think it is not my time yet. I feel sad to be bidding adieu but I think I have to take leave of you all now. I would like to thank all of you who have helped me directly and indirectly in the past. If I have done anybody any wrong, I apologize from the bottom of my heart. I have never tried to hurt anybody intentionally, I have never tried to be unfair to anybody. I tried my best. All I really wanted to do was to give my best shot at changing the world. Anyway that is another story. I leave all my worldly possessions to my twin brother who will handle all my matters from today onwards. Adieu, brothers and sisters, and uncles and aunts, and grand fathers and grand mothers, Adieu.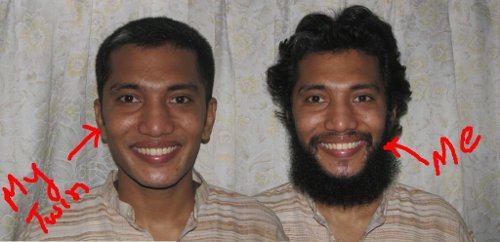 After 1 year of my experiments with my beard I have finally shaved it off. Of this one year, I had also grown my hair for the last six months and had stopped trimming and maintaining my beard during this same period. This was done as a protest to the kind of treatment we Freedom walkers received during certain segments of our walk across Kerala.
I have mixed results from my experiments.over the last one year. The initial six months was not bad as I was wearing a more or less formal trimmed beard. People did not mind my earlier formal beard and some even had commented that it had made me look more serious. The fun started after the freedom walk when I stopped tending to my beard and hair as a protest as mentioned above. Almost every one I know, especially my relatives, pleaded with me to stop doing whatever I was doing. I however had used all these opportunities to explain to them the reason why I was doing it. Again some accepted the reason while others continued to beseech me because they felt that the whole deal was gruesome. Probably it was, but again I really did not care. Also this effectively became the second phase of my experiment with my beard.
I had been to a few formal business related meetings during this last 6 months and the common initial expression I received was an expression of disbelief. Where people expected clean shaven formally dressed gentlemen, I would walk in with disheveled hair and beard. Those initial minutes were normally tough. Nobody would ask me why I was the way I was but would have kept thinking about why I was the way I was. However I have mostly been able to get through these meetings without disastrous effects because after my talk people would normally judge me by my merit and not by my looks. But I think it would have been easier if I were clean shaven. Breaking through prejudices is doable but it is tough.
My barber was quite pleased to see me after six months and he had a pretty easy job pruning the stuff. There was quite a lot of it and it took him slightly longer than normal time to finish the job. So after a long time I am back to my good ol' clean shaved looks. To be frank, being clean shaved is much more comfortable. Except maybe when I program. My beard used to help me think as I slowly brushed it with my hand. I guess I still could continue the same actions on my clean shaved chin when I think :-)
Edit: The photo was taken by a friend of mine who goes by the worldly name "Ashik Salahudeen". The photo was stiched by none other than "yours truly" using Gimp